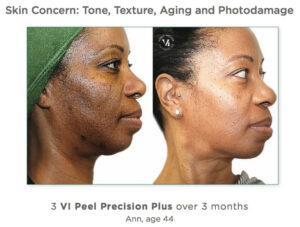 ($125 value)
Get a FREE Micro-dermabrasion
with any of the following peels:
VI Peel (original)
$200
Description
VI Peel contains a synergistic blend of powerful ingredients suitable for all skin types. This peel will help to improve the tone, texture, and clarity of your skin and provide anti-aging benefits.
Tightens skin, smooths texture, and brightens tone. Specifically formulated to rejuvenate and help prevent future damage to the skin. A great first-time peel for all age groups who want fresh, healthy, radiant skin.
For Skin Concerns
Sensitive Skin
Early Signs of Aging (Ages 20+)
Rough Texture
Keratosis Pilaris
Product Benefits
Restores a more even skin tone
Smooths away rough skin
Reduces the appearance of fine lines and wrinkles
Reduces the appearance of Keratosis Pilaris
Product Features
Safe for all skin types
Medium-depth peel
Results within 7 days
Safe to use for all Fitzpatrick types I-VI
Vitalize $200
What is the SkinMedica Vitalize Peel?
The SkinMedica Vitalize Peel is one of the most popular chemical peels performed today. This gentle peel rejuvenates the skin and requires little recovery time. Noticeable improvement to wrinkles, acne, scars, and sun spots can all be seen after a single treatment.* When used in a series or with complementary treatments, the Vitalize Peel can provide dramatic results. So what are you waiting for? Get vibrant, radiant-looking skin with minimal downtime today!
What should I expect during the Vitalize Peel® procedure?
The entire treatment usually takes 45 minutes; the actual application procedure is approximately 20 minutes. Tolerance to the peel varies from patient to patient. You may experience tingling or burning sensations, which are normal and expected reactions. A handheld fan can be used during the procedure to minimize discomfort, which usually subsides within minutes.
How will my skin look right after the Vitalize Peel?
The Vitalize Peel may leave a yellowish tinge on the skin, but this is expected to last no longer than 2-3 hours. You may also experience mild to moderate redness, as with any chemical peel procedure. The extent of redness will vary, and your face may appear redder than usual for some time after the treatment and completely resolves after the peeling is complete.
Rejuvenize $300
While laser treatments are frequently utilized to resurface and retexturize the skin, chemical peels provide another proven method of exfoliation and regeneration. The Rejuvenize Peel™ causes the skin to slough off at an accelerated rate, promoting fresh, new, healthy cells to rise to the surface. Damaged skin peels away to reveal a smoother texture, more even tone, and increased luminosity. Efficacy is further enhanced when this peel is used in conjunction with SkinMedica® products and the other fine medical grade skincare products offered at Skin Spectrum.
HOW DOES THE REJUVENIZE PEEL™ WORK?
To treat moderate to severe skin conditions, salicylic, mandelic, malic, and phytic acids are combined with resorcinol, panthenol, and Quillaja saponaria bark extract in a solution that causes the skin's top layer to peel away. Upon shedding of the epidermis and uppermost section of the underlying dermal layers, new skin cells rise to the surface, making the skin appear smooth and luminous.
This peel diminishes the appearance of fine lines and wrinkles, evens tone and texture, and improves clarity for skin that looks healthy and radiant. To achieve the best possible outcome, we recommend using the Rejuvenize Peel in conjunction with fillers, neuromodulators, lasers, and a customized skincare product regimen.
WHAT CONDITIONS DOES THIS PEEL TREAT?
The Rejuvenize Peel, which is suitable for almost all skin types, addresses issues related to aging and sun exposure, including:
– Pigmentation from sun damage, such as brown spots
– Melasma
– Rough skin texture
– Uneven or dull skin tone
– Fine lines and wrinkles
– Acne scarring and post-inflammatory hyperpigmentation
WHAT CAN I EXPECT?
To achieve ideal results and for the skin's safety, our providers recommend prepping the skin for four weeks prior to treatment. Adherence to the proper skincare regimen before the procedure can enhance effectiveness and protect the skin from unintended damage.
The Rejuvenize Peel is well tolerated by most patients. Generally, any tingling, stinging or burning sensations are easily endured and usually subside within a few minutes. There is no significant downtime associated with this peel, aside from a yellowish tinge to the skin for two to three hours post application and mild redness that may persist for the duration of the peeling process. Depending on the patient, peeling ranges from mild flaking to peeling in sheets. You should avoid sun exposure for one to two weeks following the Rejuvenize Peel.
Patients typically notice improvement after one peel, but multiple treatments frequently yield the most compelling results. The Rejuvenize Peel may be administered every four to six weeks, and the number of treatments we suggest depends on the condition of your skin and the reason for treatment.